Creative Ai Art For Your Personal And Commercial Passions.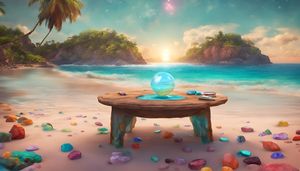 Story Behind Art Store
As a creative music artist and entrepreneur, I always have need for high quality social media images, cool website banners, interesting art for videos and other visuals to enhance my creative projects. The struggle has always been, finding the right images that I personally connect to and speak the visual language of my community. I always found myself frustrated while searching for true biblical and end time themes, people of color or a variety of African-American lifestyle images that represented well. Now with the advancement of AI technology, the struggle is over, and the dream has begun. Not only can I create original pieces for myself but I can also provide images for you to use with your own personal and commercial purposes. Whether you need images for video, music, poetry, apparel, blog posts, book illustrations, wallpaper backgrounds, or social media - the sky is your launching pad! These images will spark new ideas for your passions! I'm excited for you to use them!
Find images that speak your language. After purchase, you will receive high quality image(s) without watermark.
What Kind Of Images Do You Want To See More Of?